Engel Dry Box Cooler with Rod Holders Review
There are many reasons to love the Engel Dry Box Fish Cooler. This amazing fish cooler comes with four separate rod holders. For this reason, the cooler is the best helper on any type of angling trip you may think about. As for the design, it is compact and perfectly sized to fit in your paddleboard or kayak and also to bring with you to the water with the help of the convenient shoulder strap. This cooler is designed to keep your fish cold, dry items dry, and warm items warm. As simple as that.
Features
As for the features, there are so many that this fish cooler boasts of: to begin with, it is made with a polystyrene material that is wrapped around the cooler to insulate it, and protect the bait in cold and hot conditions. Secondly, the base is made of plastic as well as a lid won and amp, designed to absorb any kind of smell, and it is also easy to clean. There are for sturdy and long lasting rod holders that are also easy to remove and clean. The stainless screws, latches and hinges are corrosion resistant. In addition, the cooler is lightweight, and you can carry it wherever you want to go. It has a shoulder strip to help you carry it around.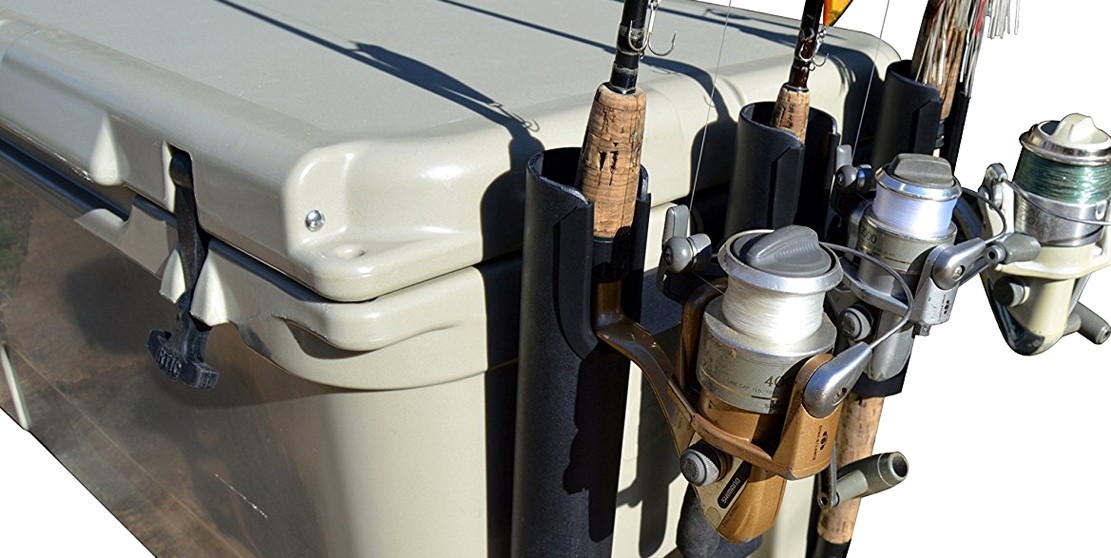 The length of the cooler is 53.34 centimeters, while its width is 27.94, and a height of 33.02 centimeters. Also, the Engel Dry Box fishing cooler with rod holders is one of the lightest on the market with a weight of 3.18kgs. in addition, it features volume of 17.98 L. the interior dimensions are as follows. The length is 34.3 centimeters; width is 20.3 while the height is 25.4 centimeters. The entire structure is made of 100 percent polypropylene.