Shimano Sahara FI in the short test
Shimano's Sahara has also been on the German market since this year. So far it has been mainly distributed in English-speaking countries. The Shimano Sahara is priced a little below the Nasci and looks very similar to the latter. I took a close look at the role and tell you what I think of her.
First impression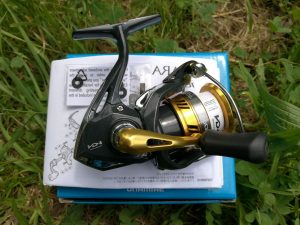 The role turns well, nothing gets stuck and everything is as it should be. The reel is accompanied by an exploded view and washers for correcting the line laying. However, this is usually not needed because the roll is already winding cleanly. The spool and handle are made of aluminum, while the reel body is made of XT-7 graphite. So the first impression is consistently good. From the outside, the reel is very similar to the NASCI except that it has a slightly different ground spool and is a little more gray in color than the black sister reel of the latest generation.
The discharge edge is large and enables long and precise throws. The new concept of the G-Free housing should also help here, which shifts the focus of the reel closer to the rod handle. Only I don't like the brake knob that much. Also with this role the possibility to switch off the backstop is not given, you may or may not like that, because I never use this function anyway.
The tested role on Amazon >>
Furnishing
X-Ship gear
Varispeed II Schnurverlegung
Housing made of XT-7 graphite
G-Free housing
Super Stopwatch II
Cold forged aluminum spool
Overview of models
There are many different models with different sizes from the Sahara, here is the list:
Test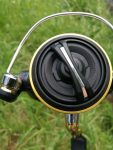 I bought the 1000's version for brown trout fishing and I am consistently satisfied. The brake can be adjusted well and runs smoothly without jerking. Thanks to the light reel, fatigue-free fishing and precise casts at trout spots are possible. At the lake, when I was spinning perch, a 70's pike went to the line, which wanted to have the little Mepps spinner. Thanks to the strong brake that wasn't a problem and, since I always fish with steel in the murky lake, I was able to land the fish without fear. So the role passed the practical test well.
Conclusion
The reel is definitely a good and solid spinning reel, which should please all spinning anglers. You certainly can't do anything wrong with this role. Nevertheless, I would take 10 € more in my hand and buy the much better equipped Nasci, which I also tested here >>
For the Americans, the role is also not sold without restriction as a role suitable for saltwater, although it should be the same model.
Shimano Sahara FI