Cheap waders from Cormoran in the test
Cormoran offers really useful waders in the very affordable range. I bought these waders just in time for the trout season and have been fishing with them since then. In this test you can read how good I found it and how it did in practice.
First impression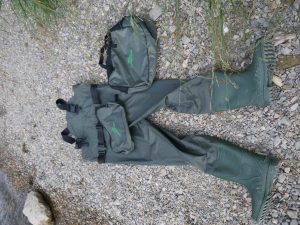 There is initially one in the product box Transport bag made of nylon, in which again the waders, one extra pocket for bait boxes etc. and a Watgurt are. This is a very nice accessory, especially since the design of the bag was taken into account. Because this has incorporated a mesh material in some places so that the water can come out of the bag.
Cormoran Wathose
view at Amazon >>
The waders with the integrated boots look relatively well made and the nylon material feels stable. The only thing is that the waders have a strong smell of plastic, but after a while they ventilate. So the first impression is by and large positive.
In the practical test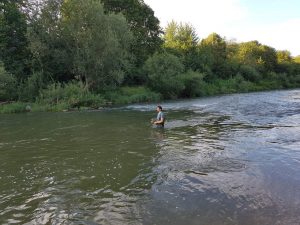 I have now fished the waders for exactly one season and have been out and about with them mainly in creeks and rivers. The target fish were mostly trout and chub with a spinning rod, but it was also used on the lake for pike and with the belly boat.
One thing was quickly clear, if you buy these budget waders, you should dress appropriately for the corresponding water temperatures, because there they are not breathable you sweat very quickly in it. When I took that into account, the waders actually went relatively well. With high outside temperatures and low water temperatures, however, it was often a bit difficult, especially on long hikes outside the water.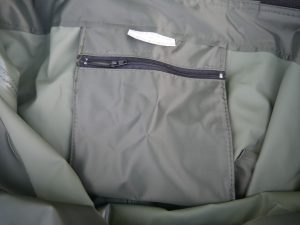 Robustes Material
When wading, I often had situations where I thought "that's it – now there's a hole in my pants" but the pants have surprised me so far kept tight. So I scratched many stones or even hacked my boots, which were a bit too tight for me, against many sharp stones while wading.
The right size
The shoes of the waders are a bit smaller, if you want to wear thick socks underneath in the spring, you should rather order 1-2 shoe sizes above your normal.
Conclusion
A surprisingly good and robust wader for little money. The high-quality material and the good equipment surprised me positively. If the waders were still breathable, they would be absolutely unbeatable, but unfortunately that is not available for the money. Recommended for beginners in wading in spring and autumn. But it should be different for midsummer and winter.
Cormoran Nylon Wathose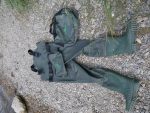 Pros
Robust
equipment
processing