Chub Outkast MKII Karpfenrute im Test
The Chub Outkast series is one of the well-known and successful carp rod series. Therefore it is time to test them extensively for you. So I got the latest rod in the series, the Chub Outkast Mark II (MK II) and started some carp sessions, but the rod was also misused as a basic rod for eels. I have now had the rod for over 6 weeks and have been fishing with it a few times to write this test for you.
Update: After a year I am still very satisfied with the slim top rod.
First impression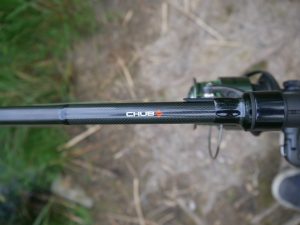 The slim black rod lies very lightly in the hand and the semi-parabolic blank shows up in the "wobble test". In general, the rod is a rather soft rod that still has a strong spine under load. The throwing properties are also great, as it turned out later. The starting ring of my model is a classic 40` ring and my rod comes with a slim shrink wrap handle. But there is also the rod optionally with cork or 50 'starter ring. The rings consist exclusively of stable two-legged rings. Another nice feature is the modern line clip (see picture).
View Chub Outkast MKII on Amazon >>
Overall, the rod feels absolutely high quality and I could not find any defects or processing errors.
Features and models
A great feature of the rod is one Lacquer coating, which hides scratches and not so quickly become visible. I was a bit skeptical here, but the advertised technology works! My rods drive around in the car without protection and are all packed up. There was one or the other damage to other rods and not only to the paint. My rod is the classic 12ft (3.66m) carp rod. High quality Fuji DPS reel seat and guides complete this rod series.
Also a spod rod and a short stalker or boat rod with only 3m are in the program.
Practical test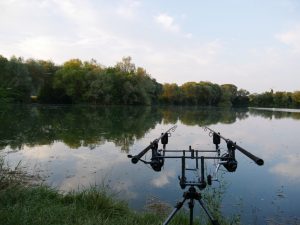 As already mentioned, the rod has now had a few sessions and was used by me for all-round use on eel and tench, but of course mainly on carp. The soft but not wobbly blank made it easier for me to play even larger carp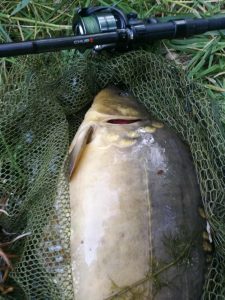 considerable and great buffering of sudden escapes in close range. So I could use one of my rods with the rod largest carp this season, a beautiful 20 pounder, successfully directing into the net. Here the nice buffer properties of the rod were really worth their weight in gold. Smaller carp also had fun with the rod. The slim Shrink Wrap handle lies very comfortably in the hand and offers a very good hold even in the rain. The feedback from the rod is good and I can always feel what the fish is doing at the other end.
Also the Throwing properties are neat, with correspondingly large rolls (Big Pit), very long and precise throws can be made. Thus, with the carp rod, I can also get to spots where others cannot go, since bait boats are forbidden here, I also needed that every now and then.
Update: The rod has now seen a couple of 30 pounders and the goods are no problem, as well as massive disregard for the casting weight by me;).
Conclusion
In fact, a rod that I use nothing to complain about have. If you are looking for a softer (of course not wobbly!) Carp rod that still casts precisely and has a decent spine, the rod series is a good choice. I don't need to write much more, if you have any questions about the rod, please write me a comment!
At this point I would like to point out again that I bought the rod myself and was not sponsored in any way.
Chub Outkast MK II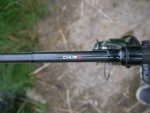 Pros
Good workmanship
Throwing properties
Paint conceals scratches
Cord clip