Courage to grow – my most successful pike baits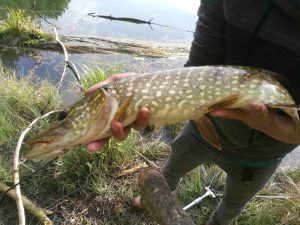 My top pike lures for spin fishing are actually always quite large or at least a decent portion and there is a good reason for that. In addition, in this article I will tell you the ideal management style of these catchy pike baits. Many anglers want to have a chance of catching small predatory fish when fishing for pike and try bait that a perch can handle well. For me this is always a compromise, because even a small, straight pike of 45-50 cm can easily pull in a decent bite of 15 cm. If I want to go pike fishing, I actually want to do without the little ones and Minimum 70+ Catch pike.
That's why I fish with big baits
Bait that not everyone uses: when I watch my colleagues at the water, many fish with the typical pikeperch rubber around 10 cm. So very slim fish. I would like to stand out from this, because I don't fish in the lagoon or other extremely good pike waters, but in lakes and rivers that are heavily fished. You can be around one of the lakes in two hours and have fished everything. That is what 5-10 anglers do a day and that's it the pike actually knows every bait model. Anyone who fishes here has to provide the pike with something that corresponds to their natural food and looks like it.
Lure lazy pike: what is a pike more likely to move for? For a small snack or for a fish that will fill you up for a while? Logically more for the second, because the Hecht also has to be energy efficient and would rather move for rewarding prey than for tiny bait.
Another trick I use to be successful in these heavily fished waters is almost always on natural colors no matter what the weather or the cloudiness of the water. I don't feel like dragging 20 different colors to the water and that would also cost money. Large baits are noticeable solely because of their stronger pressure waves and size and are therefore well perceived. In my opinion, there is no need for flashy colors. In addition, I don't need to convert even with very clear water.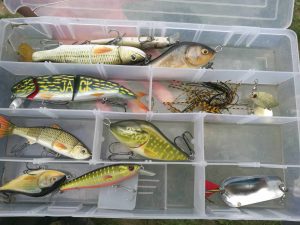 These are my top pike lures
Here is an overview of my pike baits, without which I will not go to the water. After writing this list, one more thing struck me: none of the bait has rattle and that is an advantage especially in heavily fished waters. Here the fish often have an allergic reaction to the noisemakers that were once tempting. In addition, they are all available in very lifelike decors, which can be adapted to the prey in the water. It was particularly interesting when I fished a job that a colleague had just worked on and moved on with no result. Often after one to three litters I had the pike.
Another small note: I buy all the bait with my own money ? and nothing was sponsored.
Fox Rage – Natural Replicant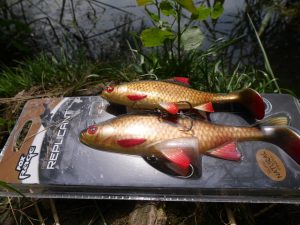 This year none was as successful as the new and extremely realistic soft lure from Fox Rage. It is available in two sizes and three decors, with the larger 18 cm long 85g model running significantly lower than the smaller 14 cm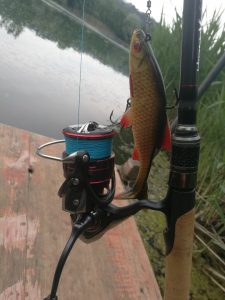 Model with only 45g. Since I installed the bait for the first time, I have hardly taken it off because it has conjured up pike where other baits have failed. The attention to detail is really unique with this bait and the rubber looks like a real roach. Since we have a lot of tench, I opted for the golden model. The only annoying thing is that the bait is a bit shredded after a few pikes, especially the smaller one, while the 85g model is almost always out of the mouth and only holds the treble. In general, the larger model could also have another hook further back, as you always have a bad attack.
View Fox Rage at Replicant on Amazon >>
Nevertheless: I also had my biggest pike on the bait this year and also a few bites that almost tore the rod out of my hand. my Leadership style of the bait is very simple: I usually just write it in and correct the running depth with how I hold my rod and how quickly I crank. But catching up slowly was actually the most successful. For very shallow waters, the bait is nothing and the water should already have 2-3m. The hooks on the stomach treble are absolutely sharp and stable.
Savage Gear – Real Eel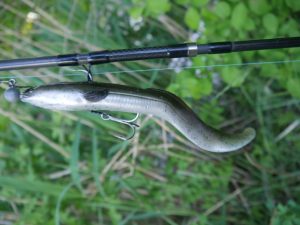 Another bait for very lazy anglers, because that too Imitation eel from Savage Gear Not only does it look realistic, it also meanders seductively through the water even with a very slow management style. Sometimes letting it sink to the bottom still promotes success. Quite clear: an eel is an absolutely worthwhile prey and with the high fat content, the energy supply of the "gourmet pike" is guaranteed for a long time. At least that's how I explain the success of this bait.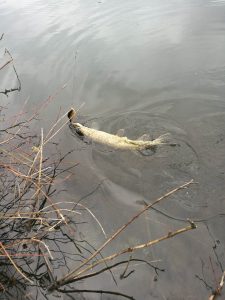 View Savage Gear Real Eel on Amazon >>
I mostly fished the 30 cm version, but it is also available in 20 and 40 cm. There are also different versions with a permanently integrated lead head. But this is by far the heaviest and I cannot determine the weight of my jig head myself, so I usually fish the "loose body" variant. I can also determine the length of my stinger in this way. My most successful decors were the lilac and white and the black and white, modeled on a real eel. My conclusion: a great bait for spring and winter pike. Savage Gear also reveals how to use a lighter or hot water to patch the rubber fish back together after a few pike attacks, which is only possible thanks to the high-quality rubber compound.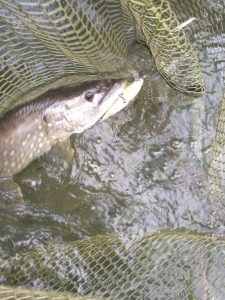 Salmo – Slider
A bait for almost all situations, and that too flies bombastically far. With this bait you can easily get to the pike that are 80 m away from the bank. Inaccessible for most anglers and especially in waters where boat fishing is prohibited, this is often an advantage. You can guide the bait however you want, because it doesn't matter whether you hit it, just crank it, let it sink again and again or do a mix of everything. He always catches his pike, if they can be caught at all. The variant I fished the most is this 10 cm long sinking real roach. Although this is not as huge a spinning bait as the other two, the slider is still a decent portion because it is very high backed. Especially in autumn and spring I can use the bait very slowly and it is the right portion for these pike. The hooks that Salmo installed here are also noteworthy. You have the right mix between high stability and good sharpness at the same time.
The bait runs a meter deep, while the 12 cm version dives a good 2 m deep. In my opinion, the smaller version with 5 or 7 cm doesn't run as well as the 10 cm slider.
View Salmo Slider on Amazon >>