Shimano Sedona FI in the test on the small river
The Shimano Sedomna FI has been on the market for a while and is therefore often quite cheap. Looking for a new spinning reel for my perch and trout rods, I ordered the reel and now tested it for you. My role is the Sedona C2000 FI HGS with an extra flat spool.
First impression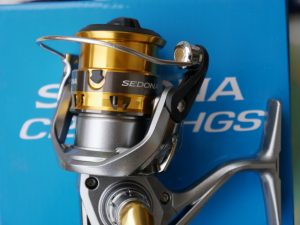 My first impression is consistently positive, since my model has a high gear ratio, you notice a minimal starting resistance, which is absolutely typical and normal for HG (high gear) reels with a high gear ratio of 6: 0. From a purely visual point of view, the reel has a typical Shimano design with a large brake button and looks valuable, both when cranking and in terms of feel. The reel body is made of a high-quality plastic, the crank and the spool are made of aluminum
The small rubberized handle knob sits comfortably in the hand and hardly allows your fingers to slip. The backstop has minimal play, which can still be seen as ok in the price range. This is also permanently switched off because there is no lever for it. This is nice because you never need this role of a role anyway and it is just another part that can break or where water can penetrate the role.
View Shimano Sedona FI on Amazon >>
I also used Shimano for winding and wound a 0.185 Technium invistec Mono. Quite simply because monofilament is still great for trout fishing in streams and small rivers and does not bother the perch either. Soft bait fishing is not effective on most trout rods anyway.
Otherwise the usual items are included in the packaging: an exploded view and a couple of washers for the spool.
Technology and models
My choice fell on the 2000 HGS because I have one small and light role I wanted a rod for my trout and perch that is solid and, above all, light and yet does not cost that much. At the same time, I wanted a high gear ratio so that I could keep up with the current, especially in trout streams, and also to fish with the current. In terms of weight, it still corresponds to the other small Sedonas at just 215 grams, it is also the cheapest version and there is just a lot of money left for tackle.
The Sedona is the one currently cheapest role from Shimano with the current one since 2017 Hagane transmission (HGN). In other words, a cold-forged aluminum gear, without any subsequent machining. The Shimano Nasci FB, which also has an HGN gearbox, has been serving me well for almost a year without failures or defects. Link to the test of the Nasci >>
Practical test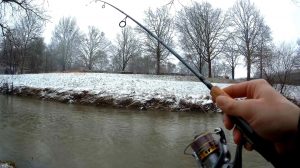 For the practical test, I went to a small river to fish for chub and perch, as I currently still have trout sanctuary. As soon as the trout sanctuary is over, I will expand the practical test. To cut a long story short, in the event of a strong rapid fall and a slight flood, unfortunately, no fish could be moved to bite, but I got a good idea of ​​the box fresh reel under practical conditions. Especially about the throwing properties, which were quite good. At first I was a bit worried, because the reel occasionally wound the new monofilament line a little bit wrong, but after half an hour of fishing this no longer happened and is therefore due to the relatively stiff line. Because in general it is Wrap pattern great and even braided ones will not cause problems for the role.
It was also very nice that the reel still cranks slightly even under load with baits that make pressure, which does not make all reels as beautiful as the Sedona. Nevertheless, there are also more common spinning reels for more money, such as the Legalis LT or the Nasci.
It was a bit annoying that the crank handle is very difficult to fold in a few positions when cranking. That doesn't have to be the case with a role that has an RRP of just under 60 €. Even if it is now much cheaper almost everywhere.
Despite some snow baths and a lot of water, the reel does not cause any problems a few days after use. Update a full bath for about 30 seconds in 50 cm deep water has not yet bothered the role (3 months have now passed since then)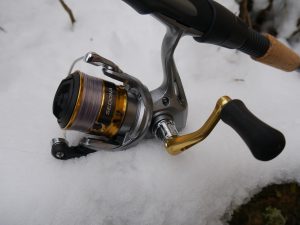 Conclusion
Overall, I like the role very much, despite the small flaw. Especially for my application, spin fishing, fishing on the river and trout stream, the model I have chosen with a high gear ratio is ideal. If you are looking for an easy and cheap role, you should take a closer look. Alternatively there are z. B. the Daiwa Ninja, which is very neat for the price in my top spinning reel list.
Shimano Sedona FI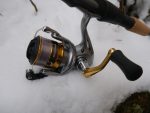 Practice (provisional)
8.5/10
Pros
Light and smooth
HGN gearbox
Good practical performance (provisional)
Cons
The roller bracket is difficult to fold over in one position
Plastikröllchen