Kastking Mela my impression of the spinning reel
Another candidate from Kastking in the test today. The rather inexpensive role of Kastking Mela 2 and to cut it short: the role didn't blow my mind and went back! Therefore not a real test, just my impression of the cranks, quality and feel.
My impression of the role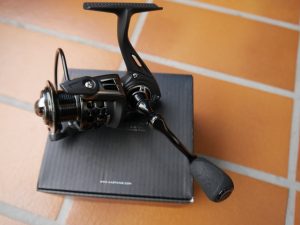 The reel is easy to wind up and looks pretty nice to me. From a purely visual point of view, it copies, at least in part, clearly more expensive roles. But what is it? The Backstop my Kastking Mela does not work and the crank can be turned backwards. After a while cranking the lever for the backstop and re-establishing it, suddenly it does again. There is probably no good quality control on the role, because that would have been noticed!
I really like the thick and stable bail arm, which makes a very satisfying loud noise when it is folded back, and the generally very light weight of the reel, which has an aluminum reel and even a spare reel, which is unfortunately only made of plastic, but has that one even with 60-70 € rolls…. Unfortunately.
The line laying of the reel is completely ok or even very good
Otherwise everything seems to be well made except for the fact that the crank knob has some play in my role and clicks all the time when turning it. For me this is the absolute knockout criterion, because I find it annoying when fishing all the time Clicking noise from my role to listen. If it weren't for the noise, I would have kept the role despite the non-functioning backstop. Otherwise the brake works perfectly and you get a lot of role for the money.
A short video from me about the Kastking Mela II
Conclusion
If you are not unlucky and you do not catch a Monday model, then the role seems passable to me. At a price of around € 30 you can expect "some fishing reel" as the Spro Mimic >> shows us. The other Kastking roles really convinced me and I think it's a shame that the Mela didn't make it too.
In my opinion it cannot be that of Customer here takes over quality control. This shows once again for me: whoever buys cheap, buys (often) twice.
Link to my test of the Kastking Kodiak >>
Link to my test of the Kastking Sharky >>
Kastking Mela II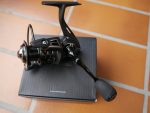 Cons
processing
Quality control