Simply make steel leaders yourself
A steel leader is a must when pike fishing, because the more than 700 teeth make short work of every braided, but also every normal monofilament line. How to make your own steel leader, I show in this guide.
Types of steel leader material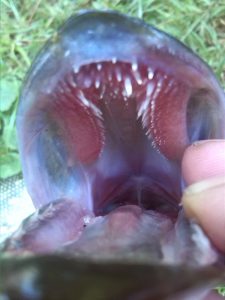 There are two important ones Types of steel leaders or 4, if you take it seriously. Once that 1 × 7 steel leader and 7×7 Stahl. There are both jacketed and un-jacketed.
My recommendation are jacketed 7×7 Leaders. The sheathing makes the leader a bit stiffer but at the same time more gentle on fish. Otherwise the leader rubs and cuts the pike during the fight and can cause injuries.
So that the leader is still soft enough, I prefer to use 7 × 7 steel in most cases, because the 49 threads are much softer than a 1 × 7 that is inherently quite stiff.
When fishing with Popping or wobblers and jerks can a stiffer leader but contribute to better bait presentation and movement as well as less rollover when casting. A spinning rod made of steel serves the same purpose and is of course also secure against pinging.
Important: A kinked steel leader should be replaced as soon as possible, because the load-bearing capacity is then greatly reduced.
Steel leader for bait fish
A steel leader for fishing with bait fish is made quick and easy with the right utensils and is quickly explained here in the photo series (further down in the article). Triplets of size 4 to 8 are recommended as long as they are stable and sharp. A steel leader for fishing with bait fish for pike should be at least 50 cm, better 60 cm long.
You still need: Clamping sleeve pliers, a pair of scissors for cutting the wire, clamping sleeves, hooks (single or triple hooks) and, last but not least, the steel leader
Make your own steel leader in 5 steps
Here are instructions in pictures, how you can easily make a steel leader yourself in 5 steps.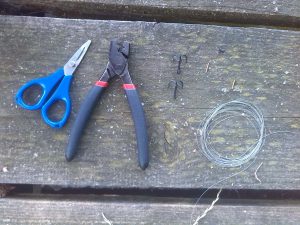 Step 1: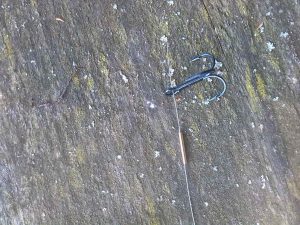 Step 2: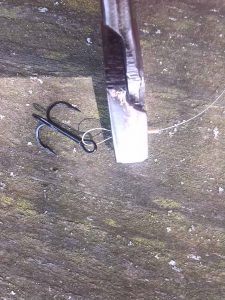 Step 3: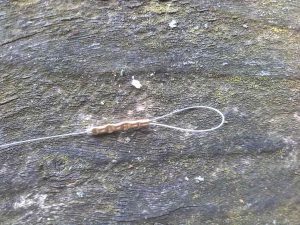 Step 4: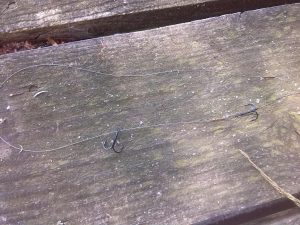 Step 5: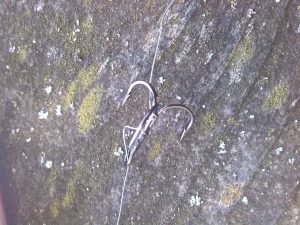 In this article you will learn how to properly bait the bait fish.
Steel leader for spin fishing
Steel leaders for spin fishing do not have to be that long. 30 cm are sufficient, as the pike is hooked in the front or in the middle of the mouth when spinning rather than in the back of the mouth. You can work in a swivel as a connection to the main line, which is pulled up and looped in exactly the same way as a hook.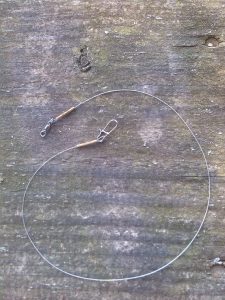 Store steel leaders
There are several options so that your steel leaders do not kink and thus become unusable and the triplets are well protected. I usually just wrap my baitfish rig rigs around pipe insulation. The leaders for spin fishing simply come in a small zip lock bag.