The Proberos wobbler looks very valuable at first glance and comes in 6 different decors in a pretty packaging. In fact, the wobbler body is only 6 cm long, the specified 7.5 cm is measured with the diving shovel and tail eyelet. The length should make it a real perch killer. The square diving shovel, which offers very special advantages, is striking.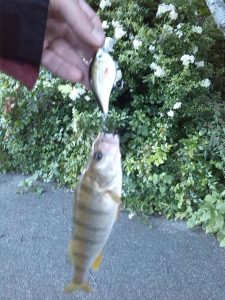 Test and properties
Above all, the wobbler makes one thing, namely a lot of noise with its loud rattles and strongly vibrating swimming motion. This wakes up predators who are lazy and makes them seem aggressive.
The wobbler has a four-sided diving shovel (Squarebill) the advantage is that the wobbler can easily get over obstacles without getting stuck. In addition, the square diving shovel takes care of the aforementioned run. The weight is around 13 grams, so you get very good casting distances with corresponding light to medium spinning rods. The decors are very beautiful and realistic and are therefore perfect for visible water. I particularly like the brown trout and the roach and white fish decor. One of the wobblers also has a striking orange-yellow design, which is suitable for the evening hours or for cloudy water or if you want to shock lazy predators. The diving depth is a good 1.5m in shallower waters, I still used the wobbler to let it hop over the bottom. The wobbler floats, which means you can slide it away better over obstacles. The rattles are extremely loud, even louder than most rattlin baits. The hooks are nice and sharp and stable and the workmanship gives us no reason to deduct points. For around 12 € there are 6 pieces.
View Proberos Crankbait on Aliexpress >>
The main areas of application for the wobbler are spin fishing for perch and pike, but chubs also love the wobbler with its 6 cm and strong rattles, it is a real all-rounder on the medium spinning rod. In my test, the Lake Constance perch, which is otherwise rather averse to wobblers, bit quite well.
Quality and conclusion
The quality of the wobbler is quite good. He still didn't forgive me a direct hit against stones and after I gave away a few there is only one in my box. But it has been reordered because it has pretty much convinced me. For the price you can't complain and comparable wobblers are quite difficult to get here, especially in such realistic decors.
The wobbler properties at a glance
| | |
| --- | --- |
| Form | bauchig |
| hook | The hooks are stable and sharp |
| Swimming behavior | floating |
| Diving depth | Close to the surface around 1-1.5m |
| Throwing properties | very good |
| Wire axis / eyelets | Three eyelets two of them fitted with hooks. |
| Running properties | very good |
| Long: | 6cm and 7cm total length |
| Weight | 13g |
| packaging | In individual packaging, see picture |
| processing | very good |
| Colours | Correspond to the pictures. There are 6 decors |
| rattle | very loud rattles |
| Leadership style | Simply crank |
| Areas of application | Spin fishing for almost everything a real all-round wobbler |
| price | Around € 10 for 6 pieces |
| Conclusion: | Highly Recommended. Great bait 9.5 out of 10 points |
Tips and tricks for fishing with wobblers >>
You can find my top 5 wobblers from well-known manufacturers here >>
Good spinning rods for wobblers >>
Top Spinnrollen >>