Shimano Trout Area Ultra Light trout rod tested on the stream and river
The Shimano Force Master Trout Area in German about trout area or area is a rod that is specially designed for trout, but is of course also suitable for everything else that can be found in the trout stream. In this article you can read how the rod made on both the river and the stream and how it did with the fish there. The rod tested here is the model with 1.5-5g casting weight and 198 cm length. So no longer quite a UL rod, but more of a light rod, although it is still very fine. As usual, I bought the rod myself and the test is 100% independent. This time the test is written more experience-oriented. Write me a comment, whether you like it that much or if you like my otherwise rather dry and purely fact-oriented test reports better.
First impression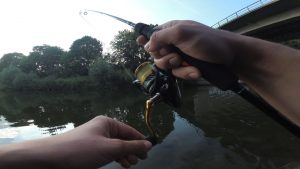 I will only be able to briefly describe my first impression here, as it actually went straight to the river after unpacking and waving for a sample. The connector sits well and the tail shows a semi-parabolic shape when wagging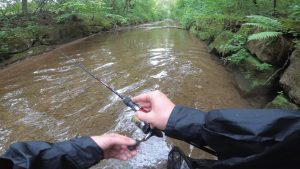 But action is still there no lamb's tail. I like the design very much and it looks smart and well thought-out. There is also a nicely curved hook eye. The only thing I don't like completely is the reel seat, as it is a Shimano model and not a Fuji or comparable. You can already see a certain difference in quality. But what I like about the roll holder is that it is screwed on from above and that the roll sits well and firmly. Otherwise the rod is absolutely light and should be fished with a 1000 to 1500 reel.
View Shimano Trout Area on Amazon >>
Models
The rod is available in four different versions see table.
| Length (cm) | Parts | Weight (g) | Throwing weight (g) | Transportlänge (cm) |
| --- | --- | --- | --- | --- |
| 185 | 2 | 72 | 0,5 – 3 | 96 |
| 185 | 2 | 76 | 1,5 – 5 | 96 |
| 198 | 2 | 77 | 0,5 – 3 | 101 |
| 198 | 2 | 79 | 1,5 – 5 | 101 |
That's why I got this rod
I got the rod in the hope that although it still casts very light baits, it would still be strong enough for larger fish. In our streams, you can expect 60+ cm trout from time to time. No joke, since a brook was contaminated with PBC for a long time, no fish are taken there and a 70 cm trout swims there, as our electro-fisherman knows to report and it is absolutely believable! Such fish need reserves and the rod is actually too light on paper. But since I also fish in other streams and the fish are not the order of the day, I opted for the light, but no longer ultra-light model. I chose the length of the rod because there are often low-hanging branches and bushes over the streams, so I can no longer throw longer rods.
Practical test
I was fishing with the rod for about 8-10 hours in two sessions. As indicated in the title, the rod was first tested on a shallow and fast flowing river and in the next stalking game on a small trout stream. Another session will follow today, if something changes my mind, I'll update here. As usual, I will also write updates if something goes wrong after a long time.
Along the river
First I went to a small river with the waders and was able to outsmart a smaller chub of a good 30 cm on an X-Rap on my first throws. The casting distance was absolutely ok and the rod casts bait very well in the specified range and a little further. Most of the time I have fished in the river with plugs 3-7 in length and size 0-3 spinners. Even the larger spinners, when caught up against the current, did not put an uncomfortable amount of pressure on the rod. Unfortunately, there was nothing more in the river than this one fish.
At the river
A few days later I got into my waders again to go to a small trout stream. Unfortunately, only small trout could be fetched there. Despite the single hooks being mounted, the number of bites was quite good and the precision when casting is also very good with the rod. Often I also had to make side throws in order to throw under drooping branches. Seldom have I thrown so little into the bushes with a rod and actually lost no bait for a whole day of fishing!
In the evening, at the lower section of the brook, I come to a very promising and deep place, the last before it flows into the river. Off into the water with my little Rapala, even if the first throw is a little shallower, the second throw is better in depth and … something hangs. Judging by the wild head butts, I immediately think of the longed-for trout, but after a short and wild escape, the fish turns out to be a slim and very strong brook chub with a good 45 cm. A very nice fish and I can really be happy. The rod builds up really good pressure and bringing in the not exactly small fish is no problem.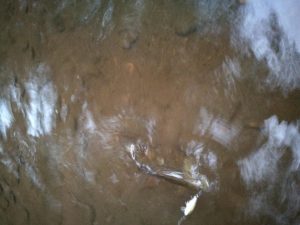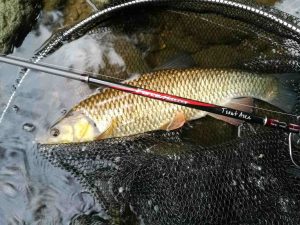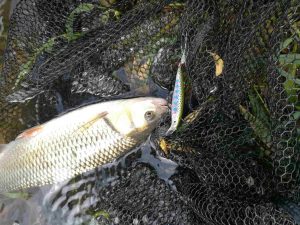 A little later when I fish the same place again on the way back from below, another bite and this time it is a small trout that is immediately ticked off gently in the water.
Conclusion
Overall, I'm with the rod absolutely satisfied and the price / performance ratio is right for me. I have nothing to complain about for this price range. I am absolutely satisfied with the practice and the look. Larger fish are not a problem, very precise casts are also possible and the casting weight information is very consistent. Recommended UL rod for a fair price!
I will introduce you to more trout rods in this overview >>
Do you have any questions about the rod? Or does she fish herself and have something to report about it? Then write me a comment, I'm happy!
Shimano Forcemaster Trout Area
0.00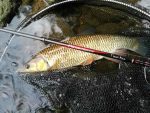 Pros
Light but not wobbly
Perfect action for trout
Hook eye
well processed